As the wildfires continue to wreak havoc in Northern California, the importance of evacuation is becoming more and more important. However, while it may be easier for those in perfect health to leave the area, getting sick patients away from hospitals is a much more difficult task.
An article from The Press Democrat details how patients needed to be evacuated from Santa Rosa hospitals and care facilities. The longer patients stayed in these buildings, the more smoke built up inside, making it difficult to breathe. Thankfully, medical personnel were able to successfully move all 130 patients, most of which were relocated to Kaiser Permanente in San Rafael.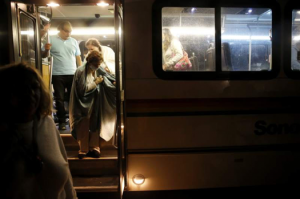 Moving these patients proved to be a challenging task. Those that were suffering from serious medical conditions needed to be evacuated by an ambulance. Everyone else was transported using private buses to the hospital. You can see the buses used in the picture above. Journalists Martin Espinoza and Guy Kovner from The Press Democrat detail the status of the patients after the evacuation:
"The Emergency Department treated about 90 people as a result of the fires, including 12 who sustained burns, said Vanessa deGier, a hospital spokeswoman. Five were treated and released, three were hospitalized at Memorial and four were transferred to burn centers, she said."
If you want to read more from the original article, please click here. It's very well written and covers everything in more detail, including personal accounts from people in Santa Rosa. Thank you everyone from The Press Democrat for keeping us updated on what is happening in California!
Here at J&D Ultracare, we deeply care about helping those in need. We provide specialized care to patients through our nursing services each and every day to help make a difference in the world. Now, the people that have suffered from these wildfires are in need of help, and we feel compelled to aid them as well.
That's why we want to direct all of our readers to the Redwood Credit Union's website, where they are currently accepting donations that will aid relief efforts in the area. Over six million dollars have been donated so far, so let's keep it up! If you want to learn more, you can visit their website by clicking here. Please consider making a donation to provide some much needed help to California. Any amount helps, no matter how small!